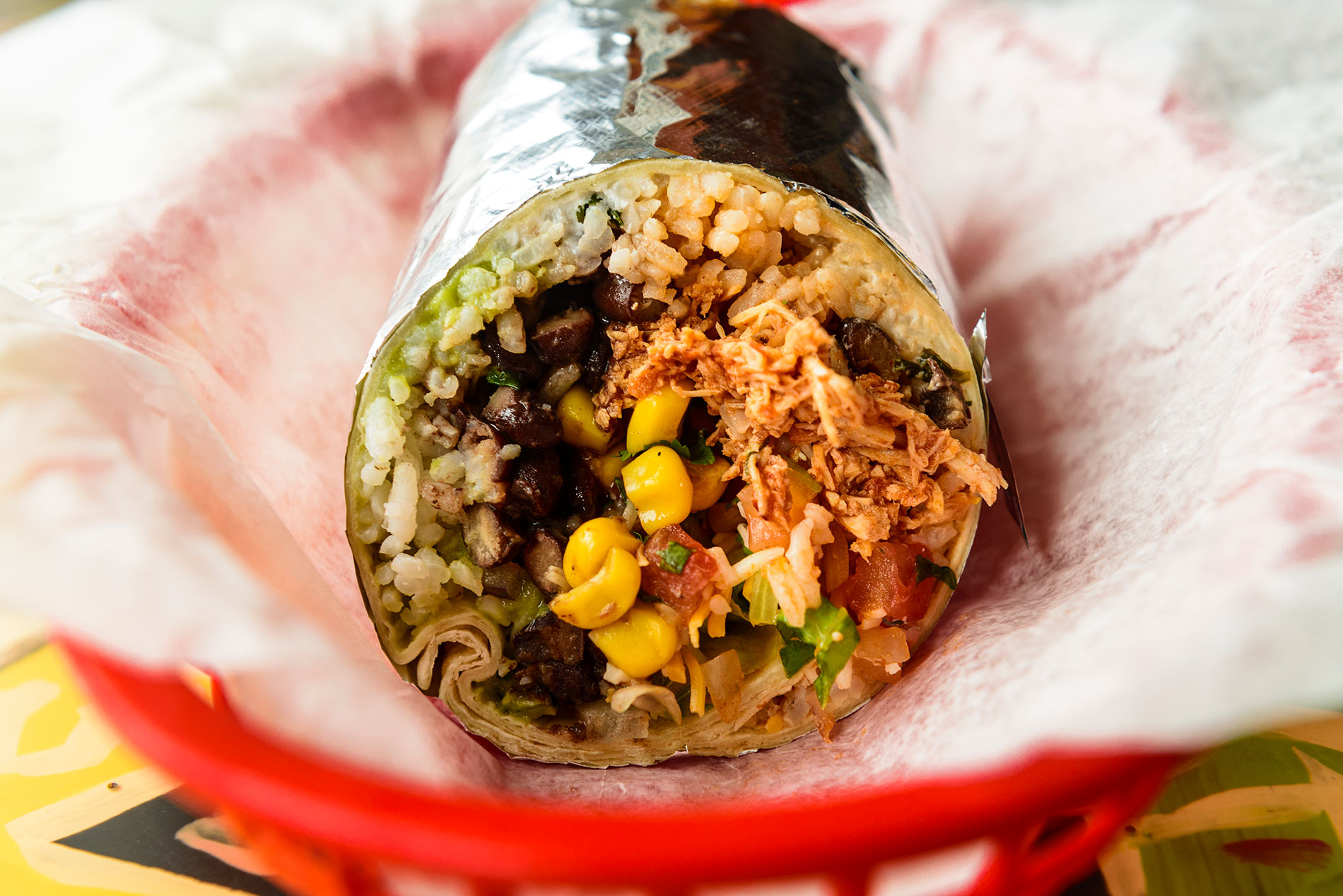 Flour tortilla filled with cilantro-lime rice (white or brown), choice of beans & meat, cheese, lettuce, salsa, guacamole & sour cream
Chicken Tinga, $6.75  
Carnitas $6.75  
Veggie $6.25  
Barbacoa $7.15   
Tilapia $7.35
Ditch the tortilla & make it naked!  Same fillings as the burrito, but in a bowl
Chicken Tinga, $6.75  
Carnitas $6.75   
Barbacoa $7.15   
Tilapia $7.35
Choice of soft flour, soft corn or crispy corn shell, filled with meat, cheese, lettuce & choice of salsa
Chicken Tinga, $2.50
/ea
Carnitas $2.50
/ea
Barbacoa $2.50/ea   
Tilapia $3.10/ea
A trio of soft corn tacos with barbacoa, chopped onions, fresh cilantro & lime
A double-layer taco with refried beans sandwiched between a soft flour & crispy corn shell.  Your choice of meat & all the fixin's
Bed of corn tortilla chips & lettuce topped with your choice of beans & meat, cheese, salsa, guacamole & sour cream
Chicken Tinga $6.75   Carnitas $6.75
Barbacoa $7.15   Tilapia $7.35
Large flour tortilla filled with melted cheese & black beans. Choose three sides from any of our salsas, sour cream or guacamole
$6.25  (add meat for $2.00)
Corn chips topped with melted cheese, choice of beans, salsa, guacamole & sour cream
$6.75 (add meat for $2.00)
Shredded all white meat breast, oven baked and smothered in a tomato-chipotle sauce
Our spicy shredded beef is a premium beef shoulder that is slow roasted, then pulled, in our homemade chipotle-adobo sauce
Savory, oven-roasted pulled pork shoulder
Tortilla-encrusted tilapia, traditionally served with our Fresh Mango Salsa & Chipotle Sour Cream
(served on Fridays only)
mild & chunky tomato salsa
medium-hot jalapeño salsa
¡poco picante!
¡bien picante!
bold blend of flavors with a slight kick
a refreshing mango salsa served on Friday's with our fish
sweet & spicy honey-mango-habanero dressing   
$0.85
White or brown cilantro-lime rice
sweet yellow onions & green bell peppers
refried (smashed pinto beans)
or black beans
both options are vegetarian & made in-house daily
1) Any burrito, chips and a drink for $9.99
2) Any burrito, chips & salsa and a drink for $11.50

Be sure to come by on Fridays for our yummy fish tacos (or fish burrito) with fresh mango salsa and chipotle sour cream. ¡Que rico!
kid-sized version of our Brother's Burrito

$3.45
1. burrito OR quesadilla
2. side of chips or yogurt
3. and a drink
$4.50
kid's quesadilla

$2.75 (add meat $1.00)
a variety of bottled sodas "hecho en Mexico" with pure cane sugar

$2.25
A traditional Mexican drink made with sweetened rice milk, vanilla & cinammon

$2.00
don't forget Dessert, amigo
our homemade Spanish custard with caramel & cinnamon
$3.00
*There may be an additional charge for any "extras" added to your order
**Menu prices subject to change